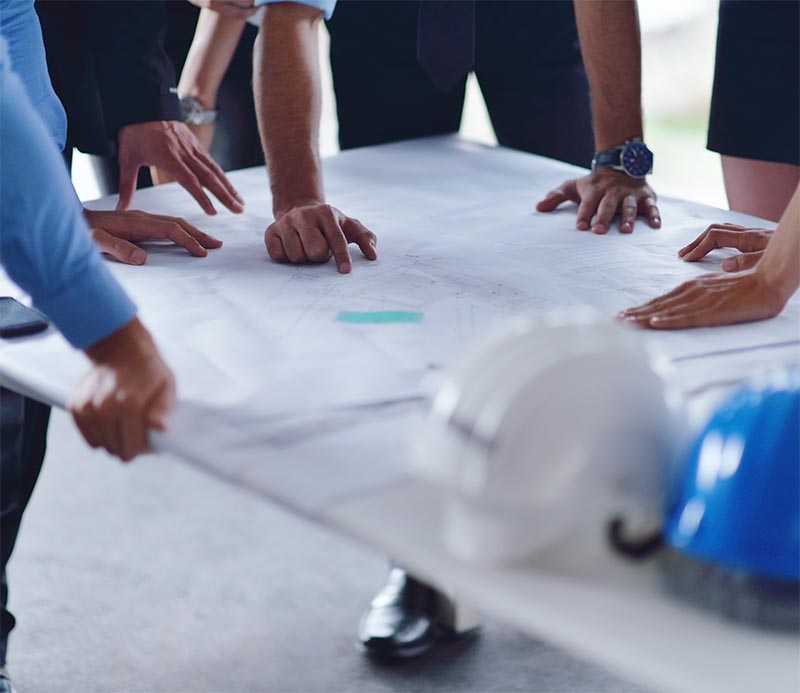 Our Staff
Drawing from a depth of experience, our firm displays the technical skills necessary to perform detailed and concise engineering work.
Our principals encourage leadership amongst junior employees who quickly become experts in their field.
Our goal is to provide high quality engineering services to our clients. We achieve this through cultivating a collaborative staff, full of experts in various areas of engineering.
---
PRINCIPALS
PERRY C. STEGER
Chief Executive Officer
Registered Professional Engineer (No. 65772), State of Texas
B.S.C.E., University of Texas at Austin, 1984
Perry Steger joined the firm in 1984 as project manager for water and wastewater design projects. Through his expertise in hydraulic system modeling, he designed economical expansions to existing water distribution systems.
Mr. Steger founded Georgetown Systems, an industrial automation software company which was acquired by National Instruments in 1996.
Mr. Steger currently serves as president of Specific Energy, LLC, Georgetown, Texas. Founded in 2010 by Mr. Steger, Specific Energy is a technology firm that develops technology to efficiently operate water pump stations by employing the concept of Specific Energy Minimization.
Mr. Steger's affiliations include:
Private pilot with instrument rating
Board of Trustees, Longleaf Partners Mutual Funds (1998 to Present)
US Patent 6411987. Jun 25, 2002. Industrial automation system and method having efficient network communication.
US Patent 6505247. Jan 7, 2003. Industrial automation system and method for efficiently transferring time-sensitive and quality-sensitive data.
US Patent 6823283. Nov 23, 2004. Measurement system including a programmable hardware element and measurement modules that convey interface information.
US Patent 7165005. Jan 16, 2007. Measurement module interface protocol database and registration system.
US Patent Application 12/571895. Jul 27, 2010. Controlling Pumps for Improved Energy Efficiency.
PATRICK J. "P.J." STEVENS
Chief Operating Officer
Registered Professional Land Surveyor (No. 5784), State of Texas
B.B.A. Banking and Finance, Univ. of Miss., 1986
In addition to managing the firm's business affairs, Mr. Stevens is actively involved in the surveying and land development aspect of the company.
His broad-based knowledge of state, county and local government requirements assures that clients' needs are met during the planning/design phase through the project's successful completion.
Mr. Stevens' business background, coupled with his surveying experience, lends itself well to helping clients choose the most efficient and cost-effective manner with which to achieve their goals.
Mr. Stevens' affiliations include:
Chair, City of Georgetown, Texas Unified Development Code Advisory Committee
Board Member, Brookwood in Georgetown
Appointee, City of Georgetown 2030 Comprehensive Plan Steering Committee
Past Board member, Boys and Girls Club of Georgetown
Past Chair, Williamson County Historical Commission
Past President, Georgetown Noon Kiwanis Club
Texas Society of Professional Surveyors
CURTIS R. STEGER
President
Registered Professional Engineer (No. 87905), State of Texas
B.S., Agricultural Engineering, 1993, Texas A&M University
Curtis Steger joined the firm as a project manager in 2011 and in 2014 was named a principal with the firm.
Through current and previous work experience, he gained planning, design, and construction expertise in roadway design, hydrologic and hydraulic analyses, hydraulic system modeling, wet and dry utility designs and value engineering of projects for both municipal and private clients throughout central Texas.
Growing up in Central Texas with a long family history in the Central Texas area, Curtis knows how to connect with residents throughout the community.
Mr. Steger's affiliations include:
Treasurer, Texas Section – American Society of Civil Engineers (2014-2016)
Government Affairs, Texas Section – American Society of Civil Engineers (2010-2014)
Treasurer/Membership Chair – Austin Branch – Society of Civil Engineers (2001-2009)
Captain, Texas State Guard Headquarters, J3 Plans and Operations (2007-2016)
BRYAN E. MOORE
Registered Professional Engineer (No. 98920), State of Texas
Registered Professional Engineer (No. C71020), State of California
Registered Professional Engineer (No. 20245), State of New Mexico
B.S.C.E., New Mexico State University, 2002
Bryan Moore joined the firm as a project manager in 2014 and in 2019 was named a principal with the firm.
He is an accomplished third generation professional engineer with an extensive background in the management and execution of large-scale land development, transportation and utility projects from start to finish in central Texas and beyond.
He prides himself on the completion and delivery of high-quality constructible projects for private and municipal clients through the use of sound decision making, effective communication and common sense.
Mr. Moore's affiliations include:
Leadership in Energy and Environmental Design Accredited Professional with a Building Design + Construction Specialty (LEED AP BD+C)
American Society of Civil Engineers
Greater Austin Contractors and Engineers Association